Edward Muntinga
Osteopath D.O., Dozent, Autor
Edward Muntinga hat sich auf Trauma spezialisiert.Wir sprechen in diesem Interview über Trauma, Timeline und endokranielle Spasmen.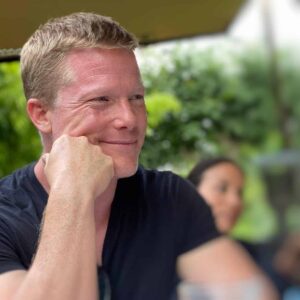 Verlag von E. Muntinga mit eigenen Publikationen
Seine Ausbildung erfolgte am Swiss International College of Osteopathy.
Er machte viele Fortbildungen unter anderem bei Ph. Druelle DO, G. Forget DO (DE, CA), Biodynamik bei Bernard Darraillans DO (FR), biodynamischer Craniosacraltherapie bei Franklin Sills (UK) und Paul R. Lee DO "Engaging the Mechanism" (USA). Eine Fortbildung in Peri-und Pränataler Traumatologie bei William R. Emerson (USA) und in pädiatrischer Osteopathie bei Renzo Molinari DO (UK).
Inzwischen ist er selbst als Dozent tätig und unterrichtet vor allem im Bereich der Traumatherapie.